Did you know that Nashville homes boast the largest yards in the nation? Neither did I, until I stumbled upon this information in a Nashville Business Journal article (subscription required).
Nashville currently takes pride in having the largest median lot size among the country's 50 biggest cities – a sprawling 11,813 square feet (or .27 acres). Music City is celebrated not only for live entertainment but for spacious backyards that invite a world of possibilities. The median home in the city occupies around 1,830 square feet, meaning that the typical home takes up only about 15.5% of the lot. This leaves residents with ample yard space for activities ranging from grilling to gardening, or simply basking in the sunshine.
Recent trends reveal growth in Nashville's new-construction homes too. Properties built over the past ten years average 2,435 square feet, a substantial 25% increase over the overall inventory. If you are more inclined towards a big backyard rather than abundant indoor space, consider shopping for older homes. Those constructed during the 1950s offer generous lots of almost 19,000 square feet but might require extensive remodeling to align with modern tastes. Neighborhoods like Donelson, Inglewood, Crieve Hall, Charlotte Park, West Meade, and Bordeaux are prime locations for these vintage ranch-style homes.
Most cities have seen a trend towards smaller urban residential lots in the past decade to reduce building costs and increase density. With the rise of two-on-one HPR-style homes, Nashville's prize-winning grand lot sizes may see a reduction in the future – certainly in areas with "R" zoning. Other cities and states are beginning to address density and affordability with zoning changes allowing for granny flats and DADUs in residential areas. These  not currently allowed in metro's "RS" zones, but I wouldn't be surprised to see that change in coming years.
In the second quarter of 2023, the median cost of a single-family home in Nashville reached $490,000, according to Greater Nashville Realtors®. Compare that to $316,000 in 2019, and you'll see a clear indication of the area's increasing desirability. Nashville experienced dynamic growth during the Covid era, with residents flocking from California, Chicago, and New York at nearly 100 per day. The Middle Tennessee area continues to expand, with Redfin reporting six incoming residents for every one person leaving.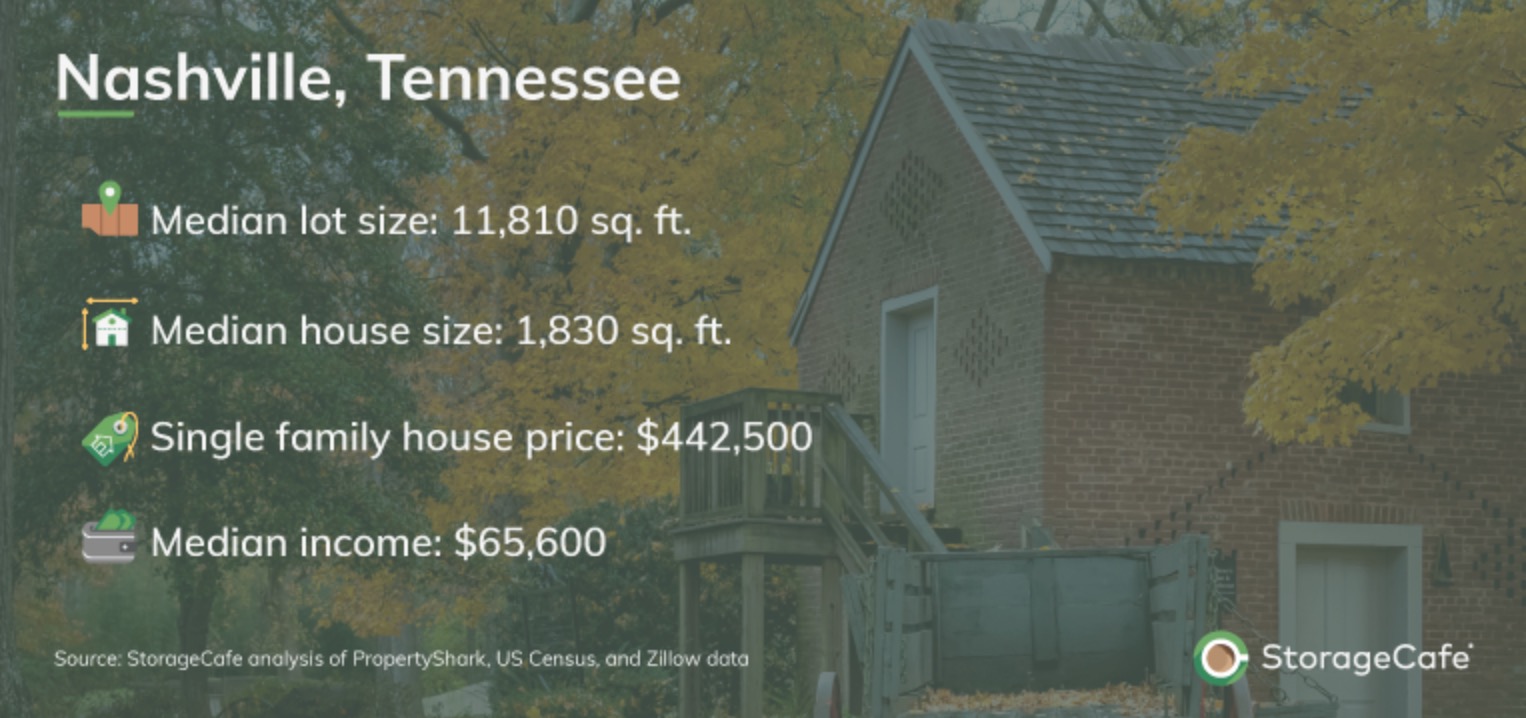 Source: The NBJ article drew statistics from this StorageCafe study: Best Cities for Lot and Home Sizes. StorageCafe sourced home prices from Zillow and utilized digital property data company PropertyShark for information on median home and lot sizes.
*The discrepancy in StorageCafe's median price and Greater Nashville Realtors® price is likely found in their definitions of "Nashville."
One likely includes all of Davidson County and the other may only include homes with a Nashville mailing address which would exclude Hermitage, Antioch, Old Hickory, and Madison.