The appeal of urban living has caused tremendous growth in recent years to Nashville's core neighborhoods.
Click here to explore Nashville suburbs or here for condos.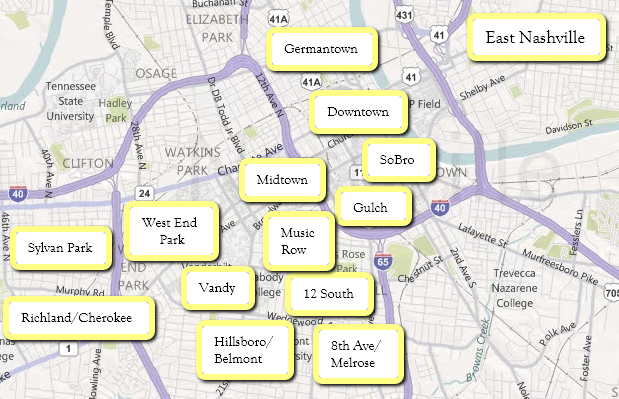 Urban Nashville Neighborhoods
8th Avenue South/Melrose 
This is an area that is more commercial than residential- but that is changing. Eighth Avenue South is rapidly becoming one of urban Nashville's most interesting areas. Stretching from just south of downtown and continuing towards Woodland -In-Waverly and Berry Hill, it offers a number of interesting places to visit.
One of the local "meat and three" favorites is Arnold's Country Kitchen on 8th. Just a few doors down is Flyte, a trendy restaurant and wine bar. Also on that corner is Prix de Solde featuring interiors and staging services. Farther south is both Grimey's, a record shop par excellence and The Basement, offering great live music. Keep going and you will reach Douglas Corner Cafe. DC is home to several antique stores as well as Zanie's Comedy Club. And be sure to visit the hip Melrose Neighborhood Pub, one of Nashville's Trivia Time showcases.
---
12South Home Search
12South is one of Nashville's newer/older neighborhoods. Located south of downtown and near Belmont University, its northern boundary is around Wedgwood and southern is at Gale. 12South is primarily residential, except for an interesting and friendly mix of retail and dining establishments. Blocks of primarily single-family homes are divided by 12th Avenue. Historic Sevier Park is a very popular neighborhood gathering spot for residents.
Are you ready for a cucumber martini? How about an avocado popsicle? On 12 South you'll find a fun and eclectic mix clothing, boutiques, art, dining, drinking (coffee houses as well as a tap room, a wine bar, multiple restaurants) and more.
---
Belmont Area Home Search
Centered on Belmont Avenue, this neighborhood is filled with an assortment of early 20th century bungalows, interspersed with some Tudor and foursquare styles. The central reference point would be Belmont University on its northern end and I-440 to the south. It has the feel of a progressive neighborhood with traditional architecture.
Other than the University, perhaps Belmont's greatest claim to fame might be Bongo Java; a local coffeehouse that was home to the famous "Nun Bun." Surrounding Bongo Java is a number of locally owned and operated shops and neighborhood dining opportunities. Given Belmont's strong music program, a great many of our musical "stars of tomorrow" live in this area.
These areas offer an opportunity to live in the city; next to the intellectual energy of higher learning. Record contract; organic coffee and pancakes; martini or micro brew anyone?
---
As the name implies this is Nashville's primary commercial area. In years past, the CBD housed major department stores, movie theaters as well as the major hotels. That began to change in the early 1970's with the advent of suburban malls and gradually the CBD became for the most part office oriented. That was true, at least during the day. At night, our "honky-tonks" took over.
Today the CBD is undergoing a major resurgence. It is still a business powerhouse with State and City government as well as Nissan North American headquarters located here (while a new facility is being constructed). The 2005 business survey showed almost 1400 businesses employing almost 50,000 workers. And the numbers have grown since then!
Residential renewal began several years ago with loft conversions in old retail buildings like Art Avenue, Kress & the Exchange. Growth continues with new residential condominium construction. The CBD is the "heart" of our new downtown. Check out the historic block-long indoor arcade. The Arcade is located between 4th and 5th Avenues ½ block north of Church Street. And speaking of historic, don't miss Printers Alley!
Major attractions are many and growing almost weekly. The world famous Ryman Auditorium (original home of the "Grand Ole Opry") is here, as is the Convention Center and the Tennessee Performing Arts Center. There is something going on it downtown every day and night. Nightlife at the honky tonks of lower Broadway has always been a draw. And you don't want to miss the Art Crawl!
Besides what is at their doorstep, residents are within easy walking distance to other major music venues, as well as theater, symphony, art, and professional sports venues. This neighborhood is also home to The Hermitage, Tennessee's only Mobil 5 star hotel!
---
East Nashville Home Search
Ah, so close but so far away. East Nashville is a neighborhood filled with architectural (and other) treasures. Located just across the Cumberland River from Downtown, East Nashville is where LP Field (home of our Tennessee Titans) is located.
Actually like many of our city neighborhoods, what is referred to as East Nashville is comprised of a number of "sub-neighborhoods" (East End, Edgefield, Inglewood, Lockeland Springs, Rosebank, Eastwood and several others) each one with its own unique feel and history.
With the exception of a few newer multi-family developments East Nashville is comprised of well-established neighborhoods; many that have undergone a recent resurgence and revitalization since the tornado of 1998. It is home to many who are young and young at heart. A bit of everything: funky, alternative, established. You name it. Songwriters, artists and young families all have been attracted to East Nashville joining many life-long residents.
There are a number of places to occupy your day (and nights) without ever leaving the area. Like parks? Art galleries? Like to golf without going to the country club? East Nashville has all that and more, but I think the locally-owned boutiques and restaurants the biggest draws. Not to mention the colorful mix of early 20th Century architecture. Victorians, bungalows, tudors and cottages from the 1890s to the 1940s are the norm.
Suggestion: Start at Beyond the Edge in Five Points for lunch. They have a tasty Amaretto Chicken salad Sandwich. Prefer a hot dog? Then stroll around the corner past "Garage Mahal" and visit "I Dream of Wienie".
---
Edgehill Village Home Search
A new hot spot is Edgehill Village (at the corner of Villa and Edgehill). Converted from a dry cleaning plant, this eclectic mix of retail shops offers great examples of Nashville's urban re-use of older buildings. Want to try "bubble tea?" Visit the Fat Straw. Incredible cakes? There's Dulce Desserts. The list goes on and on.
---
Elliston Place

Elliston is another component of the areas surrounding Vanderbilt University. It sits next to West End just north of the Vandy campus. There is a lot packed into these blocks. Food and entertainment are the best-known landmarks however there is residential here as well. Rotiers is considered by many to have one of the best burgers in town. Want something healthier? Smoothie King is right across the street. Better yet, the Elliston Place Soda Shop has been a local hangout for well over 60 years. Visit an old fashion soda shop. Looking for a good book? Or one that is out-of-print? Visit Elders Bookstore. These are just a few of many interesting places along Elliston. There is serious nightlife here also.
There aren't currently many home ownership opportunities in this neighborhood other than rentals. You might take note of nearby West End Circle condo opportunities.
---
Germantown Home Search
Located north of the capitol building is Nashville's first neighborhood, Germantown. It has something for just about everyone. Stroll tree lined streets to fine dining, at the Germantown Café, Monell's (southern food served family style), or The Mad Platter. Looking for lighter? Try Zackie's for a hot dog. During your walk you will enjoy a quiet and friendly ambience, a peaceful haven, yet within sight of the downtown skyline and the capitol. Want to take home a bite? Visit Lazzaroli's Pasta shop for fresh-made pasta to go.
Germantown offers single-family residences and recently built multi-family lofts, condos and town homes. There are still residual commercial businesses in this area, but rapidly being surrounded by new homesteaders. It has an active neighborhood association and has been designated as an Arboretum with 138 different species of trees and shrubs growing inside its boundaries!
The historic Nashville Farmer's Market is located nearby as is the Bicentennial Park and Morgan Park. This area is transitioning rapidly and with its proximity to the Cumberland River prices will continue its growth as more people learn about it. The adjoining areas of Hope Gardens, Salem Gardens are also undergoing a rapid revitalization.
---
Gulch Home Search
The Gulch is a happening! Located between downtown and midtown (Music Row), the Gulch is what is sometimes known as an "in-fill" neighborhood. A unique partnership between government and private developers is creating a grand new urban neighborhood right before our eyes! The early activity has been centered at the southern end of the Gulch, near the Midtown and Edgefield areas. Stay tuned for the northern end to emerge next.
It began several years ago with the redevelopment of a number of older commercial buildings. These were rehabilitated and put to new use. Offices, nightclubs, and restaurants have all sprung up. Then new urban residential has been added to the mix.
There is something in all price ranges in the Gulch. From rentals to upper-end condos with 24 hour concierge service, the Gulch is coming to life. There are a number of new projects currently underway with more in planning. Most of these buildings are "mixed-use," meaning there is retail on the street level with office and/or residential above. In this way the Gulch is growing its retail along with its residential.
Already known for a number of very hip and popular dining and entertainment venues, its residents enjoy being just a few blocks from everything, but without the congestion of the some of the higher density areas during events. Like bluegrass music? One of the nation's cornerstone venues is here at the Station Inn. Pull up a chair and enjoy!
---
Hillsboro Village
Its University neighbors heavily influence HV. In just a few compacted blocks you will find most of the essentials of campus life. Food, drink, books, clothes, art, boutiques, nightlife, and coffee. Plus a post office for getting money from home to pay for the above. Ground zero is roughly 21st Ave. S. and Belcourt Ave. If the weather is nice, head to Jackson's Bar and Bistro and sit outside to people watch.
---
Hope Gardens

Hope Gardens is located directly northwest of downtown, within site of the State Capitol. It has a mix of industrial, retail, commercial and residential components. In recent years there have been several new residential developments constructed. These have been aimed primarily at the affordable housing segment, meant to offer workforce housing near the city.
Being adjacent to the Capitol North neighborhood, Hope Gardens residents have a very short walk to the Nashville Farmers Market and the Bi-Centennial Mall. Not to mention downtown itself of course. Only a few blocks in size, residents are closely located to the grocery and drug stores in Buena Vista and Germantown.
---
Midtown

The midtown area might be most easily associated with "Music Row," aka the Third Coast is the location of many of Twang Town's recording studios and related businesses. This neighborhood is bordered by Vanderbilt and Belmont Universities and includes many businesses, bars and dining as well. Midtown is comprised mostly of single-family homes. Interspaced with these homes (some converted to businesses) are a handful of condos and multi-family options. As you get closer to the Roundabout several office complexes appear. Oh yes, and you can eat and drink! You might start at Virago a popular spot and known for its sushi. Prefer something less fussy? Try the Red Door Saloon.
To really take in some neighborhood history, take a tour of the historic RCA Victor Studio "B" located on the row. Tickets available through the Country Music Hall of Fame.
---
North Capitol / Sulphur Dell / Market District

This neighborhood is known by several different names. Located between the Central Business District and Germantown, immediately north of downtown. Its boundaries are the River to the east, Rosa Parks (8th Ave N.) to the west, Jefferson to the north, and James Robertson Pkwy to the south.
This area has recently been primarily commercial in nature however developers and demand for affordable downtown living has sparked a rapidly increasing transition. A successful residential project has resulted in a second phase and other residential projects coming right behind. This area is within easy walking distance of most of downtown. Also within its boundaries are several unique destinations.
The most striking landmark is the Bicentennial Mall, a Tennessee State Historical Park, located in the shadow of the State Capitol. Right next to it is the (also historic) Nashville Farmer's Market. By the way, the Farmers Market is undergoing a renovation and also offers a choice of no less than eight interesting and tasty dining establishments. And of course it is also an easy walk to Germantown as well as downtown venues.
From here you can also enjoy the French Lick Greenway, part of a bike/trail complex that leads to and along the Cumberland River past many interesting and historic venues.
---
Located just south of SoBro, these neighborhoods are each in the midst of urban transition. This area is emerging from being heavily commercial into mixed-use.
A major residential/retail project is underway on Rolling Mill Hill, which will overlook the Cumberland River. When completed, it is envisioned that there will be a brand new neighborhood reclaimed from commercial use. There is both restoration and newer residential on Rutledge Hill comprised of apartments, condos and town homes as well as a few single family. The City of Nashville has many of its administrative offices here and it also is home to the Nashville Children's Theatre.
Lafayette, which lies south of downtown; South of SoBro actually. The main street is Lafayette (south Murfreesboro Road). An area of principally light industrial businesses, our urban planners have a vision for the future.
There is a vision for building more affordable workforce housing and also developing this area into an "arts and crafts" oriented destination. With its many commercial low-rise buildings, the potential to create street level boulevards and cross streets of interesting shops and galleries is promising. Already new development is springing up all around in the adjoining areas of Rutledge Hill, SoBro and the Gulch. It won't be long before residential catches up here as well. Meanwhile, you can grab a great hot dog at Hot Diggity Dog or catch great R&B live music at 3rd and Lindsey.
---
Music Row / Roundabout
Home to "Musica," sculptor Alan LeQuire's tribute to our musical heritage, this area offers up its own collection of business, residential, dining and entertainment choices. Looking to see a Nashville star in their native habitat? Try The Pie Wagon at lunchtime. Been known to have a cocktail? Start at the Tin Roof and stroll to your left or right.
---
Salemtown

S-Town is a residential neighborhood just north of Germantown. Casual observers sometimes assume that it is part of Germantown however it has its own unique history and identity. Its borders are I-65 on the north, Rosa Parks (8th Ave N.) on the west, the Cumberland River to the east and Hume Street on the south. It has been comprised of modest single-family homes and has the advantage of being quite close to the city center. Residents of Salemtown have watched the rapid growth in Germantown and are now experiencing it for themselves. There are a large number of rehabs, and new infill construction both completed and underway on literally every block of Salemtown. Indeed, many investors have concluded that this neighborhood offers some of the best values currently available in urban Nashville.
---
SoBro
SoBro (short for "South of Broadway") is one of Nashville's newly-coined city neighborhoods. It encompasses the blocks south of and paralleling Broadway, with Demonbreun as its main artery.
While SoBro has been known mostly for its commercial flavor, the impressive and growing number of recent and planned new projects makes it one of Nashville's most dynamic areas. In addition to being home to major entertaining venues; there are hotels (including the Hilton and Wyndham's restored/converted train station, the Union Hotel), office buildings and multiple new residential projects all underway.
Start at the Country Music Hall of Fame. Catch a concert at the Gaylord Entertainment Center (GEC for short). You'll want to visit the Frist Center for the Performing Arts. When you finish, you might want to stroll out back and over to the Cummins Station complex, filled with a variety of business and dining surprises. And for the experience of perfect sound you must visit our new Schermerhorn Symphony Center. Did we mention the proposed new Nashville Sounds baseball complex?
---
Sylvan Park

Located west of West End; off Murphy Road and bounded (roughly) by I-440, Charlotte, Harding and White Bridge is the serene neighborhood of Sylvan Park. It offers the look and feel of a well-established neighborhood, yet is just a few minutes from the city.
That's if you felt the urge to leave. Sylvan Park is a haven for families and urbanites that prefer their city with a bit more greenery than chrome and glass. Hosting an active neighborhood association, you sense a pride of ownership and a place where young families interact with long established ones. There are some excellent local dining establishments here as well as recreation and education. Parks and a golf course co-exist with education (Montgomery Bell Academy, Aquinas College) and medicine (St. Thomas Hospital). Check out Star Bagels, offering some of the best in town. And Sylvan Park Café is one of the city's most popular "meat & threes". Feeling like a sandwich? There's Goldie's Deli too.
---
West End / West End Circle
West End is another area that many people blur the boundaries of. At first glance, much of this area is retail, with West End Avenue filled with shops and businesses. But, hey, it is running right along Vanderbilt's campus! There is residential here too. In fact, there has been a major growth of condominiums and multi-family residences being constructed over the past year or two. West End boasts a central location for education, entertainment and dining. With Centennial Park and the extraordinary Parthenon as its centerpiece, many professionals now call West End their home.
---
Woodland-in-Waverly
Another of Nashville's historic neighborhoods, Woodland-In-Waverly is south of the downtown and its central through street is 8th Ave. So. North and south borders would be around Wedgwood and Craighead Streets. Its best-known landmark would be Douglas Corner, where both Zanies Comedy Club and the well-known Douglas Corner Café are located. The later should be a must-see for those who want to see and hear today and tomorrows songwriters and performers. Actually there are a number of businesses located there, including several design, antiques and furniture-related business. While there wander around the side streets on either side of 8th Ave. Most of W-I-W is under historic overlay. Close not only to downtown; but also to Belmont, Lipscomb and Vanderbilt Universities. Like a bargain? You're also very near the Tennessee State Fairgrounds (home to a very popular monthly flea market). On the western side of 8th Ave. So. and stretching along Wedgewood, is Waverly. Depending which way you go it is also known as Belmont-Waverly or Waverly Place. In either direction, the dominant design is single-family homes. Typical of this area, there are a number of foursquares and with some Tudor and bungalow styles. Recently there a number of new town homes being added as well.
* Disclaimer: the commentary herein is meant to be informational, not guaranteed, and is believed to be accurate. Links are provided as a courtesy and are not meant to be an endorsement of any particular establishment.