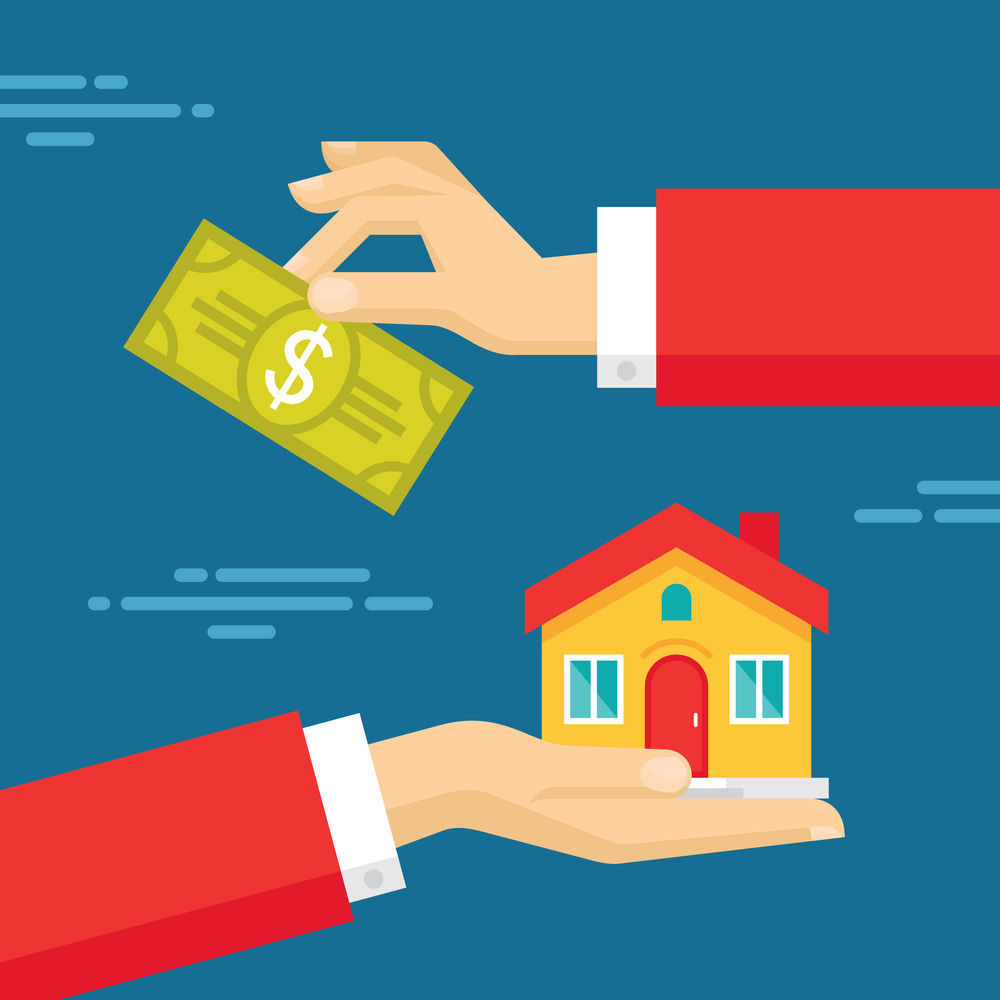 Closing costs are separate and in addition to down payment.  Closing costs are a combination of all of the fees charged by each vendor who is required to provide services to close your purchase.  Even though each vendor sets their own fees, your lender is challenged with the task of giving you the initial estimate of what those fees are.  Total closing costs can vary significantly depending on a number of factors. The type of loan you are applying for, the down-payment percentage, and your credit score will all be factors at play.
It is not unusual for closing costs to end up being between 2% and 4% of the loan amount. It is important that you investigate these costs in advance. It's a conversation you can have with your lender when applying for pre-approval.
Closing Costs + Down Payment = Amount You Bring To Closing

Closing costs are broken down into the following categories:
Fees your lender charges
Fees charged by vendors who must be paid

 

BEFORE

 

you close on your home.
Title company charges
Escrow account set up and reserve cushion
State and local governments charges
Lender fees
Typically, a lender's major charges will be for processing and underwriting.  Some may also charge an application fee and/or a credit check fee. 
Fees charged BEFORE your closing
A handful of vendors require payment before the closing. Your appraiser, pest inspector and home inspector are the most common vendors who require payment before closing. These fees are not refundable and tend to require payment prior to service.
Title company
Your title company charges a fee to search for liens against the property and to buy insurance to protect you in case someone files a lien on your property in error. The policy they issue is called Title Insurance. In the Nashville area, it is customary (although not required) for the sellers to cover the cost of your title insurance when buying a resale property – though this is a negotiable item and can be split. If you purchase new construction, or a bank-owned home it is normal for the buyer to cover the cost of title insurance. It can also be smart to offer to cover your the cost of your own title when faced with a competitive or multiple offer situation. Finally, your title company will also charge a fee to handle the closing itself.
Learn about estimating the cost of title insurance on our Seller Closing Costs post or give our favorite title company, Rudy Title, a call.
Your escrow account
Escrow accounts are for your home's property taxes and insurance.  Because property taxes and home insurance are paid on an annual basis,  it can be difficult to pay two very large bills twice a year.  That's why most homeowners use escrow accounts.  Here's how they work: Your lender divides your annual property tax bill and your home insurance premium by 12 months and includes that with your mortgage payment.  When you purchase your home, your first year of home insurance and what remains of the property tax year is included in your closing costs.  Why?  Because insurance is paid when the policy begins and you cover the property taxes for the part of the year you didn't have ownership of the home.  When you make your monthly mortgage payments, your lender deposits the escrow portion of each monthly payment into your escrow account.  Then, when taxes and insurance are due, your lender makes those payments from your escrow account for you. Most mortgage companies require a year's worth of insurance and several month's worth of taxes be placed in your account initially for reserves, cushion, and adjustment.
State and local taxes and fees
The state charges a transaction tax or Stamp tax and local governments may impose similar charges.  Your county's Register of Deeds charges filing fees to record your deed as a matter of public record.
Seller-paid closing costs
In some cases, it may be negotiated for the seller to cover a portion of your closing costs.  Various loan programs set limits on how much assistance the sellers can give you, and the sellers may not be willing or financially able to assist you.  If the sellers don't cover a penny of your closing costs, you're expected to bring your down payment PLUS your closing costs to your closing.  Likewise, if the sellers only cover some of your closing costs, you're expected to bring the remainder PLUS your down payment.
Other fees
In addition to the above you may see fees for:
flood certification
HOA set up
HOA reserve cushion
home warranty if purchased by buyer
broker transaction fees (we do not charge broker fees at Brokers Cooperative)
courier fees
Points
As a homebuyer, you also have the option to "buy down" your interest rate.  To do that, you pay what are referred to as "points."  To buy down your rate, one point costs 1% of your loan amount and will reduce your interest rate by 1/8th to 1/4th
Mortgage insurance
Monthly mortgage insurance is typically required whenever the down-payment is less than 20%.  When utilizing an FHA, THDA or RDA loan mortgage insurance will be required. Consult with your lender to determine if there are any up-front mortgage insurance related costs to your loan program. For VA loans, the funding fee can be rolled on top of the loan or paid at settlement as a closing costs.
Lender-paid closing costs
In some instances, it may be possible for you to choose a program where some of your closing costs are rolled on top of your loan instead of being paid at closing. In the industry, this is often (and ironically) referred to as lender-paid costs. If you choose a loan with this structure, trust that you will be paying a higher interest rate for the life of your loan for this privilege.
Earnest Money/Trust Deposit
At the time of contract, it is customary to offer the seller a 1%-2% earnest money deposit. This cash is not an additional fee. The check will be cashed and held by the broker or closing company. It is a good-faith deposit that will go towards the total fees owed at settlement. If you end up withdrawing from the contract due to a written contingency (typically inspection, appraisal, financing) the deposit will be returned to you. If you breach the contract, these funds are at risk. 
We'd like to thank our favorite local lender, Mary Littleton, for her assistance in creating this post. If you are seeking loan approval or if you simply have questions about the process, we highly recommend contacting her.
You can find additional information about mortgages at the Consumer Finance Protection Bureau.