Have you ever wondered about the best way to create a home search online? We've been in real estate for more than 15 years and in that time the available technology has changed dramatically, but the basics of searching within the MLS system hasn't really changed all that much.
You can search on our website yourself, or we can set up an automated search that emails you daily (or immediately) from MLS. Either way, you will see all of the results. That's because we have "broker reciprocity" with the Nashville MLS. We display ALL area listings, not just our own.
The first thing you should consider is what type property you'd like to search for. Within Realtracs MLS, we have the following options:
Single Family Homes
detached, site built
attached (planned unit development, horizontal property regime, zero lot line)
detached (planned unit development, horizontal property regime, zero lot line)
modular/manufactured/mobile
Condominium
townhouse
garden condo
flat condo
high-rise condo
loft condo
Other Types
land/lots/farms
multifamily (duplex/triplex/quad)
commercial
Your second consideration is basic criteria – what is your minimum or maximum number of bedrooms and bathrooms? Other things that are easily searched include acreage, age of home, square footage, garage/parking features, homeowners association dues or lack thereof, and of course price range.
Thirdly, it's time to think about location.
MLS Area is how Realtors search but the distinctions are sometimes lost on the general public.
City, County
Example: if you said – "We'd like to live in Wilson County near I-40 but I don't care for Watertown because my ex lives there." Our search might look like this: "Lebanon, %juliet, Hartsville, -watertown". The percent sign in front of Juliet will catch searches for Mt Juliet, Mount Juliet, and Mt. Juliet.
Zip Codes
Example: if you said "We like West Meade and the Hillwood areas. Maybe Belle Meade too", We might recommend a general search for 37205, but also throw 37209 in there as to not miss anything.
School Zones
In some areas of the country, school zones have a major impact, but this isn't the case in Nashville. MNPS has made school choice much easier to navigate in recent years. Still, if you have a preference, we have a way to search for it.
Radius Search
"We'd like at least two beds, and two baths no more than two miles from Vandy priced under 400k." Well, we happen to have 36 of those available right now.
Custom Parameters
A new feature lets us get laser-focused on your areas of interest. "We really want a new home in Lockeland, Cleveland/McFerrin, Shelby, Germantown, Buena Vista or Salemtown under 700k"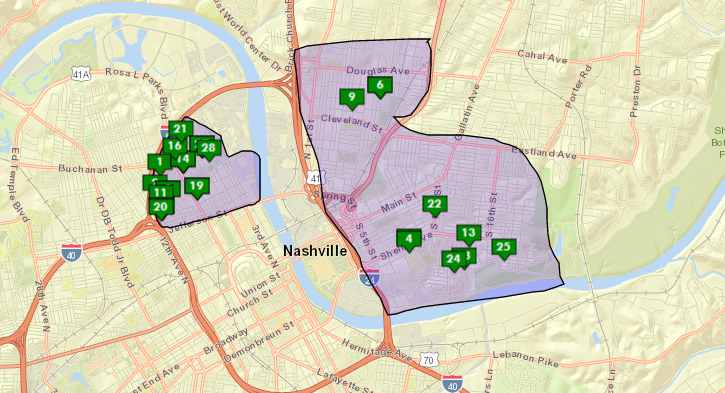 *We do not recommend browsing by neighborhood name. Nashville neighborhood boundaries are not particularly well-defined and this field is manipulable by the listing agent. What one agent calls The Nations, might just be titled "Nations" by another. Still, others might call it Historic West Town or Urbandale Nations.
And finally, we can limit search returns with specificity. Here are some of the more common requests:
master bedroom on main level
one-level living
ADA accessible features
waterfront, water view
golf course
community pool
finished/unfinished basement
fenced
gated community
style of home (modern/ranch/cottage/etc.)
We can get pretty specific here – even down to room features. If you are hunting for something unique, let us know and we will see if we can figure it out.
But What About Homes That Aren't Yet On The Market?
Pre-Market and Coming Soon opportunities are out there. For clients who sign representation agreements with us, part of our duties include actively seeking out pre-market listings. There are several places we search, but private agent-to-agent social media scouting is the best. One such agent-only Facebook group has over 2500 members. Eight of our 50 most recent transactions happened off-market. That's significant.